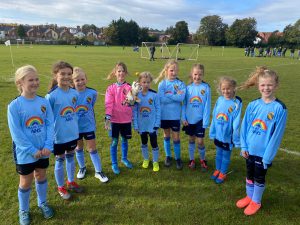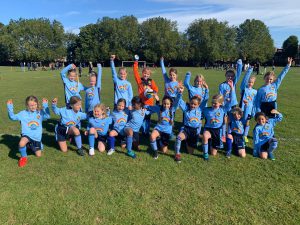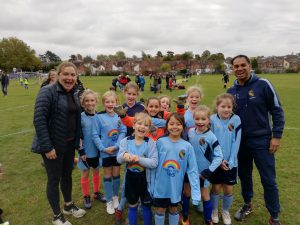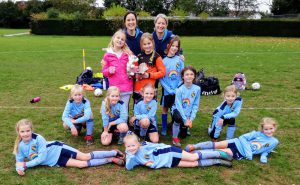 Welcome! Our U9s coaching team is run by a mixture of FA qualified and partially qualified coaches/helpers parents whose footballing knowledge and passion for football enable us to create the perfect environment for a child to learn, develop and have fun!
We are dedicated to promoting the empowerment of girls through sports, and to help them grow and develop their confidence and abilities both on and off the pitch. Providing a safe and nurturing environment for the girls to have fun, build friendships and develop the techniques and attributes to become confident footballers.
The u9s have almost 30* players, making up 2 teams (The Tigers & The Lions) managed by Marcus Cain and Neil Gupta with help from Lisa Cain, Rachel Arkell, Jo Hawkins and Julianna Copland, playing 7 aside football.
*Note we are now full (Nov 2020) and operating a waiting list. If you would like to get in touch, we can let you know as soon as a space becomes available.
Training takes place on: Wednesday from 5:30-6:30 pm on the 3G Pitches at Piggott School – Twyford Rd, Wargrave, Reading RG10 8DS.
We will also play friendly games every Saturday morning at 10am or 11am kick offs (Sept – March) at Kensington Road, Reading RG30 2SU and some tournaments in the summer term.
We are looking for more parents to become involved in coaching/helping. If you are interested please speak to one of the coaches or helpers for more information.