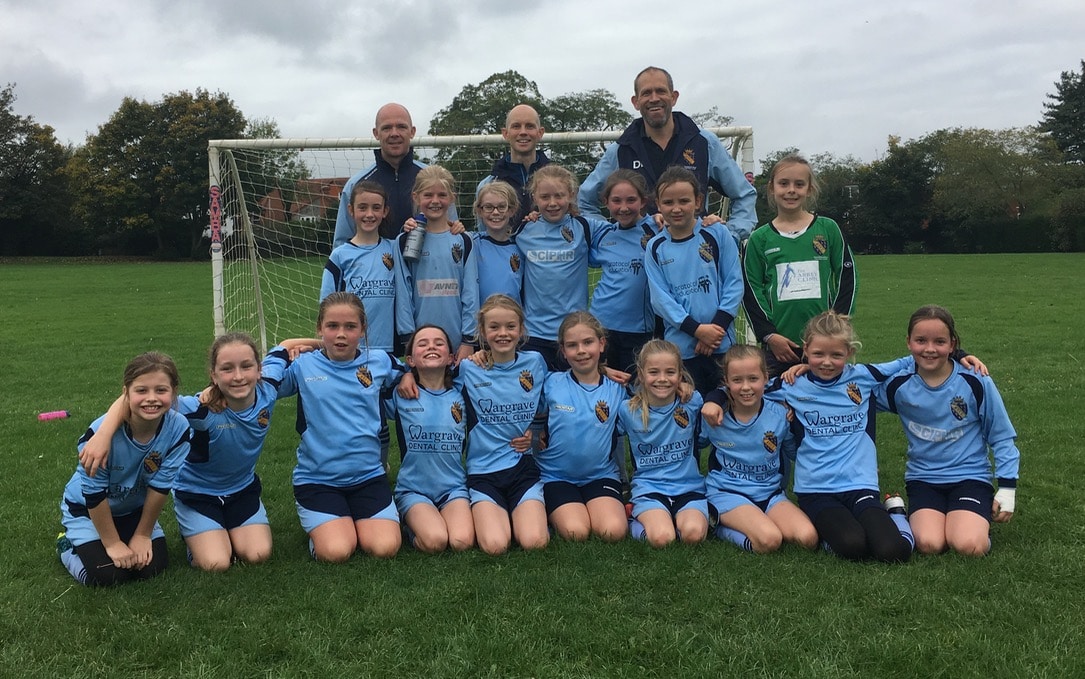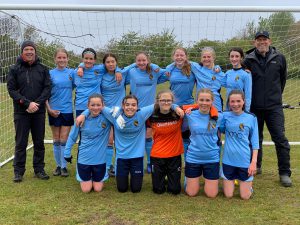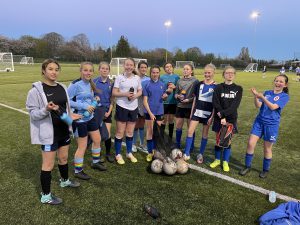 Our primary aim in the U14 football remains enjoyable. We continue to focus on ensuring that the girls love coming to the football and want to come again, but will work them a bit harder this year to ensure they are developing their skills, improving their thinking on the ball, and working to ensure they perform as a team to the best of their abilities.
We run training every Thursday 7:30-8:30pm & play a match most Saturday mornings. We play in Berkshire County Girls U14 leagues – Division 1 for Lions and Division 3 for Leopards. Training sessions follow a rough structure that the girls get used to which includes :-
Warm up sessions : Ball Mastery
Coaching Sessions : Receiving & Passing, Speed, 1v1, Finishing, Small sided game
Small game
Wrap up
Our training focuses on 3 core areas :-
Skills – passing, dribbling, tackling, restarts
Teamwork – how to play as a team
Thinking – focuses on the decisions that the girls will make in the course of a game
Matches: We play matches on Saturday mornings between September and March. The matches will be 9 aside with 2 halves of 30 mins each. For each match we will take a squad of no more than 11 girls.
Coaches: Paul, Jeremy & David will run the Lions, Matt & Aidan will run the Leopards.
Our Key Principles for this Season are as follows :-

Enjoyment : The most important thing is that the girls enjoy coming to football and want to keep playing
One Club with Flexible Squads: We have girls with different levels of experience but treat the girls as one club. We will run three teams again this year (Covid situation permitting) two of equal ability and one team aimed at a higher division. Training is now split into the 3 squads (Bears, Lions, Tigers) to manage numbers and skill levels. We will try to ensure the girls play in the same squad for a half season (either Lions, Tigers or Bears), but the coaches will need the flexibility (withIn FA rules) to move players between squads to ensure we can consistently field teams. We will be contracting from 3 to 2 teams as we move to 11 a-side at U14, as a result we are not currently accepting new players.
Some Photos from last season below :
Coaches: ​