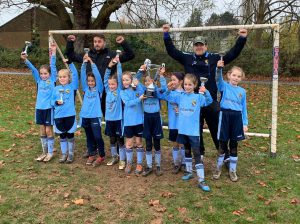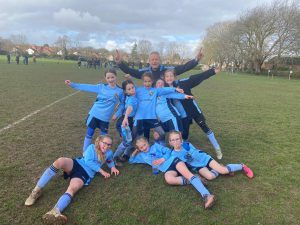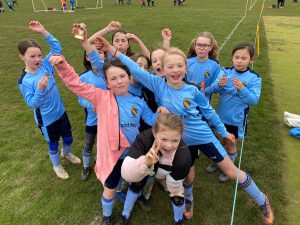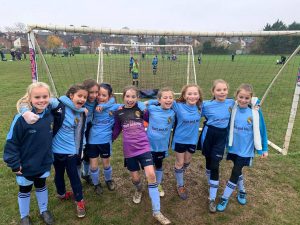 WWGFC are an FA Charter Standard Club, The FA's accreditation scheme for grassroots football.
Our U10s coaching team is run by a mixture of FA qualified and partially qualified coaches whose footballing passion and knowledge of the game has been rounded by decades of playing and watching football.
We are dedicated to creating an environment for the girls to learn and develop both their footballing skills and game knowledge as well as helping them to grow and develop their confidence and abilities both on and off the pitch. Our aim is to provide a safe and nurturing atmosphere at training for the girls to have fun, build friendships and develop the techniques and attributes to become confident footballers.
Our Key Principles for this Season are as follows :-
Fun: The most important thing is that the girls enjoy coming to football and want to keep playing.

Squads: We currently have 22 players signed on and aim to run two squads (Tigers & Lions) this season that will play against other U11 girls teams. Whilst we are always welcoming of new recruits, we need to ensure fair playing time for all the girls so unfortunately matchday squads are currently full but if you are interested in joining us, we would love to invite you to join us for training until a position become available in one of the squads.

One team: We have girls with different skill levels and experience across both squads but treat the girls as one big team.  Training is run as one team on Wednesday evenings between 17:30-18:30 with some separation of the training drills to match ability levels in order to create the best environment for honing skills at the correct pace.
Matches: We play matches on Saturday mornings between September and March. The matches will be 7 aside with 2 halves of 20 mins each and 5 mins for half time. For each match we will take a squad of no more than 9 girls.
Coaches: David Hyde, Glene Sandom, Mark Usher and Rich Bookless will continue to coach the girls this season with Josh Shaplan helping out as and when university life allows. We seeking assistance from parents for both match day help (setting up the pitches for home games, etc.) and to help with administration of the two squads.
DH