Here are the 2019/20 season awards for the Under 13 Boas.
| | | |
| --- | --- | --- |
| Players Player | Sophie Hammond | Aka Nine-nil, Hampton, Uggs … In her first season she has become a key part of the team who doesn't know when she is beaten, can come up with a goal out of nothing, leaves defenders and midfielders for dead with skill and pace. |
| Coaches Player | Ruby Owen | Not an easy decision but deserving nonetheless Her first season with Wargrave Ruby fitted in immediately. Some excellent performances including having 1st division teams chasing shadows with her skill, movement and pace. Pitched in with her fair share of goals and assists too. |
| Most Improved Player | Katie Zabel | Another difficult decision but Katie deservingly won this as she came in having not played much football previously and slotted in seamlessly alongside players who have played for 4-5 years. Katie works hard in every training session and Is an integral part of the team. |
Top Goalscorer – Jess Reed
Jess scored 14 goals in League and Cup Competitions, and was in form to score a few more, not sure the Caversham teams want to see her again.
Honourable mentions – Milly Lenk in defence and Shona in goal had great seasons and were close to an award. Matty, Ela, and Jess Scott also had excellent debut seasons.
Coach of the season was – Dave with 44,356 votes
Season Summary:
For sport to be successful, two things must coincide, enjoyment and a competitive streak. The newly formed Boas have these attributes in spades and should be ridiculously proud of the way the played this season. Time and again, they would come from behind to put on displays that made parents and coaches proud, never giving up. What coaches dream of.
We began the season playing a pre-season friendly against an established Laurel Park side losing 5-4 and the coaches immediate thoughts were this was not going to be a boring year for anyone.
The Boas 'finished' in 3rd with some great attacking performances against quality teams (and topping the league for a few weeks), reaching the semi-final of the league cup which was never played and most importantly enjoying every moment. When the team fell behind a couple of times there was a couple of great comebacks too showing great resilience whilst persisting with playing good football. All over the pitch, from 'keeper to strikers everyone had games where they excelled, shone and the season's achievements were a true team effort.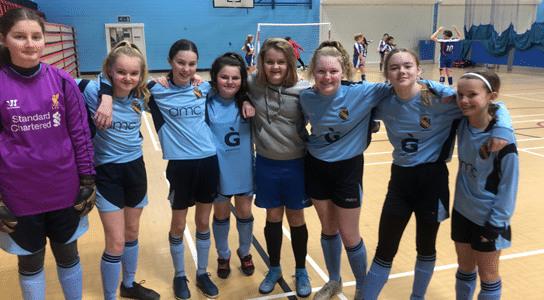 Notable performances were 3-2 against Marlow 8-1 against Sandhurst and 6-1 & 10-0 respectively against a strong Caversham Trents team. The game which the team showed the most character was the final one for the season despite having not played especially well and losing 1-0 most of the game the game was turned on it's head in the last 10 minutes with a 3-1 victory away to Sandhurst.